BitSummit 10 Developer Q&A: DriveCrazy's name is a bit of an understatement...
For the first time since the beginning of the pandemic, Japan's longest-running independent game dev festival, BitSummit, reconvened this August in Kyoto. A special deputized deployment of VGG staff attended the weekend-long event and reported back with exclusive Q&As with developers in Japan's pioneering indie game dev scene. Check back in with us to explore an exciting batch of upcoming games in VGG's BitSummit 10 coverage.
Read on for a brief talk with the man behind an apocalyptic and chaotic driving game set in a crumbling Japan: DriveCrazy.
DriveCrazy is a driving action game in which players careen down the streets of a crumbling Japan in a light truck, escaping whatever mysterious follower is in pursuit and making a mess of the city along the way.
With the tagline "If you think it's a road, it's a road," players have to race through whatever path their truck can manage in order to survive. Despite the frantic and perhaps darker ideas at play, the game is comedic in tone through the high-speed, destructive action. Those who enjoy a uniquely Japanese sense of humor that can also be seen in games like Earth Defense Force and Katamari Damacy will find the atmosphere comfortably familiar.
The game was among the six nominees for Bitsummit's Excellence in Game Design Award, which is presented to the game with an exemplary design concept, gameplay mechanics, and execution. It took home a Media Highlight Award from the Japanese entertainment news site and Bitsummit media partner, GetNews.
DriveCrazy was a very popular game on the Bitsummit floor and the developer was understandably busy. Still, he kindly gave us a bit of his time in order to answer some questions.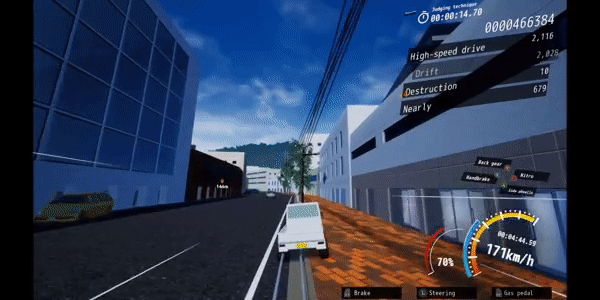 The following interview was translated from Japanese.
VGG: "Could I ask you to please introduce yourself?"
Takao: "I am Takao from Tubezgames. I was in charge of everything in the game, from the programming, sound, the audio… I did all of it."
VGG: "Which part did you like the most?"
Takao: "The part that I am the most talented at is the game programming."
VGG: "I see. If you were to explain this game to someone who had never played a game before, how would you do so?"
Takao: "You want to escape from a town by truck."
VGG: "And, if someone were to want to support your game or studio, what method would have the strongest effect?"
Takao: "Attending this event was very difficult, so helping there would have been a big help. My luggage was very heavy!"
Well, it's a bit too little, too late to help out with his travel! So, why not show your support for TubezGames in a few other ways?
DriveCrazy is set to release in early access on Steam and is available for purchase for access to the most recent development builds on Itch.io. The developer is seeking active feedback from players while the game is in development. A release date for its full 1.0 release has not yet been decided, but you can keep up with the one-man development studio on Twitter for updates!